2020 was a challenging year for all of us. Despite this, we need to be positive and help where we can to end this pandemic.
The demand for Automation and Digital Transformation increased significantly in 2020. Companies have realised, now more than ever, that automation is not optional. It is something that has become mandatory for every company or institution. I think that in periods like this, RPA and Hyperautomation are the best options because they don't force you to upgrade  your existing  infrastructure – which usually takes time. Integrating software robots in your current environment is like hiring extra people very fast. You will also be sure that these new employees will never make mistakes, they will never be retrained, they will also deliver on time and they will do all the mundane work that people strive to avoid.
For Aggranda, in terms of business, the 3rd year was a good one. We continued to educate the market about the need of Automation and Digital Transformation, helped medical institutions with our knowhow and made sure that our business survived during these hard times.
As a reminder, Aggranda name stems from aggrandize – which means to amplify, to magnify, to increase. We create time in companies to grow, with the help of the software robots. These robots take on all the repetitive and mundane tasks from humans.
Investing in education
Our offline events stopped last year, because of the pandemic situation. But we continued to find a way to invest in educating the market about RPA and Hyperautomation.
Last year we organized our first RPA Internship. We had over 20 participants from all over the world: the UK, Romania, Pakistan, India, the USA, and Nigeria. Our internship program was online and we focused on practice. The duration was 1 month with weekly meetings to monitor the progress of the interns. The goal of the internship was to provide participants an opportunity to build a functional UiPath robot with the guidance of professional developers.
We had 3 final winners of the internship program. All of them demonstrated their UiPath abilities, and we recommend them to any company looking for new colleagues in their RPA department.
Meena Muthukrishnan built a UiPath robot that helps companies in India with a faster check in for their interview candidates. When the candidate approaches the Front Office Executive (FOE) to obtain  an entry pass, the FOE will collect and scan the Aadhaar card. As soon as the Aadhaar card is scanned, the bot will start to extract the details such as Name, DOB, Gender, Aadhaar Number and Generate pass number.
Then extracted details and a generated pass number are entered into a UiPath form. Also, details such as the phone number and company name will be entered manually. As soon as the FOE clicks the submit buttonall the data will be appended to the excel file (will be created as per system date) and the Pass number will be sent to the Candidate via SMS.
The flow diagram of the process looks like this: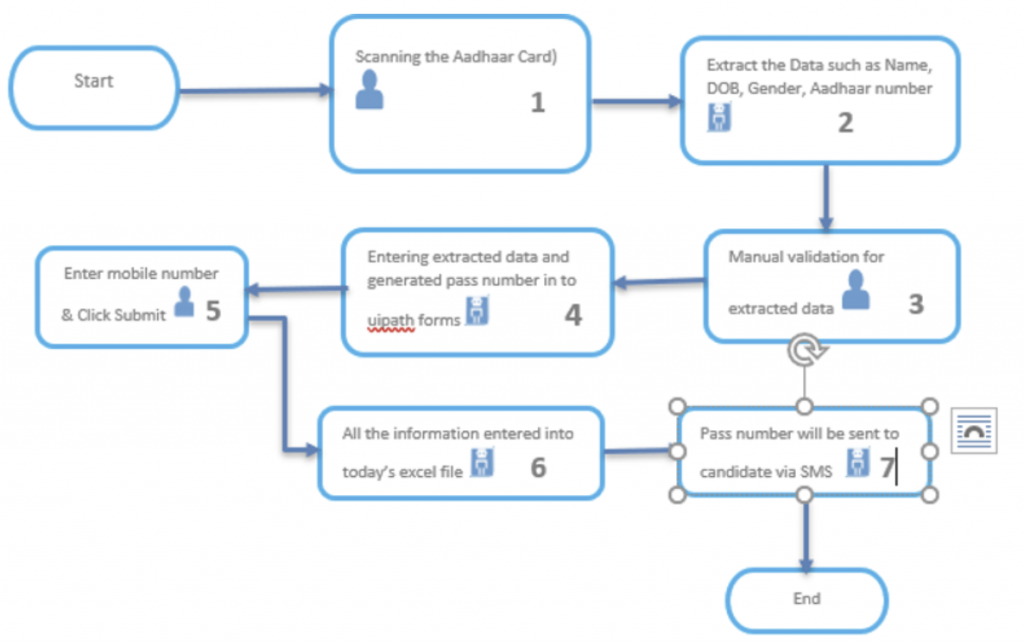 Oluwaseun Aborisade built a UiPath robot that prepares a report of all transactions that occur in an ATM Machine. This would help reduce the stress of manually retrieving data from the journal files on a daily basis. The end result is a report of all successful transactions (withdrawals only) and the sum total of the Daily withdrawals which will be sent via email to the ATM custodian.
Ovais Ahmed Yousufi built a UiPath software robot that helped his university with calculating the grades for each student. The robot was taking the information from an excel file and inputting it in the university database automatically.
We will continue with our internship program this year. To be notified, please follow our LinkedIn page.
Our team
2020 was not an easy year for any of us. But there is a saying: what doesn't kill you makes you stronger. We learned a lot last year. We learned a lot in 3 years of activity. We made a lot of mistakes – this is something that we are not ashamed to tell all our clients actually. Even if it hurts when you make mistakes, it's the fastest way to learn.
Now, we are even stronger and more ambitious with our work. Our team grew significantly last year and it keeps growing. We attract talented people from big companies. UiPath was born in Romania, and this offers us a very competitive advantage because there is a great pool of RPA developers that we can work with.
Projects and business growth in 2020
Our client database increased with large enterprises from all over the world. We are happy to mention some of them:
Sunrun is America's leading home solar panel and battery storage company, INSEAD is one of the world's leading and largest graduate business schools and Vertiv is a global leader in providing equipment and services for data centers.
We have helped them and other clients from our portfolio with their Hyperautomation strategy or developing their internal RPA Center of Excellence.
Our revenues increased over 100% from last year. We now have clients from the USA, UK, France, Singapore and Romania. Aggranda is a RPA boutique company headquartered in Romania and delivering Hyperautomation solutions all over the world to large enterprises. 
We are glad to receive constant messages from potential investors from all over the world that want to help Aggranda grow. It means a lot for us and it assures us that we are doing the right thing here.
If you are interested get in touch with us, please follow our LinkedIn page.