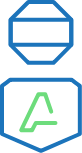 Vintilă – the Reconciliation Process with RPA

120 hours per month

1 employee with more time
Vintilă is a software robot developed using the UiPath platform for the Romanian Union of Road Carriers (UNTRR).
Every morning, after all the invoices are imported in the ERP, Vintilă reconciles the payments in advance with their corresponding invoices.
After that, the software robot processes each line in the bank statement and record it in the ERP software. There are thousands of lines that are being processed by the software robot.