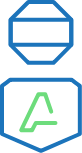 UiPath Order Process Automation in whosale and retail

5 humans with more time

200 hours / month
Nadia is a UiPath Software Robot that helps Radox with the Order Process. The UiPath robot reads the order details and reserve all the necessary products in the available stock. Next, it creates and prints the picking list for the warehouse. Human colleagues from Radox will start loading the transportation vehicles based on these lists. After that, Nadia creates and prints a Delivery Note for warehouse personnel to include in the delivery that serves as legal documentation of the products delivered. Then, it deletes the reservation to release the products for delivery. After a few days, the UiPath Robot checks if the orders have reached their destination and creates invoices for any received orders.
Nadia helps 5 human colleagues from Radox to have more time.
Punctual. Swift. Errorless. Liberating. This is Nadia from Radox.