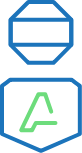 HR Software Robot for Total Soft

7 hours / day

10 employees with more time

TotalSoft is one of Central and Eastern Europe's most important ERP providers with projects ongoing in 45 countries. Aggranda worked together with TotalSoft's HR department to build them a UiPath robot, which saves them at least 7 hours every day in their new contracts process.
What humans were doing in 30 minutes, this UiPath robot does in just two. That's 15 times faster!
The UiPath robot helps the HR Department process raw input data for new contracts/employees and fills out the results in the Charisma ERP.
The robot reads the IDs and Statements of Responsibility documents from a predefined folder. Those documents are uploaded into the predefined folder as scanned, photos, or PDF files. The robot uses Optical Character Recognition to extract relevant personal information from the documents, and it's equipped with accurate verification algorithms ensuring the extracted data is correct.
All of the above is centralized in an excel file, for further processing.
The robot will then fill the forms in Charisma ERP with the data from the excel file. It reports any exceptions or errors to the team by sending an email, and it also emails them a variety of run-generated reports. Upon completion, the robot repeats the above process perpetually. 
In a few words: the robot unburdens its human colleagues of menially reading countless IDs per day, manually centralizing and searching for information, and filling in data for new employment contracts.