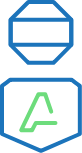 HR Software Robot for First Bank

7 hours per day

1 employee with more time

A recruiter is a valuable player in any company's human resource (HR) team. But sometimes recruiters can be so overloaded with menial tasks that it makes it hard for them to do what they're best at doing. 
This is a real-life story about how First Bank was able to successfully transform the recruiter's job into a focused value-added and enjoyable position.
Here is a list of the main responsibilities for an experienced highly educated recruiter:
Identify future hiring needs and

create relevant job descriptions

with the hiring managers

Post

the new jobs

on all the hiring platforms
Frequently check

new applicants

on each platform

and assess applicants' knowledge, skills, experience

Conduct interviews

Create the legal contract

and

all the related paperwork for each new hire
Completing paperwork

and

recruitment reports

on top of all the above steps

Implement legislation updates into an organization
The most boring and mundane tasks, including the copy/paste work, are the ones in bold. These tasks can consume up to 50% of a recruiter's time spent onboarding an employee.
The onboarding process is very complex and contains a lot of decisions and collaboration on tasks. The process was adapted and improved by Aggranda and the First Bank team.
In this demo, you will see a software robot performing the onboarding process for the new employees from First Bank. The robot saves more than 120 hours every single month for the First Bank team.