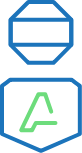 Druid Chatbot + UiPath Robot in HR

20 minute / task

1 person with more time
It took us less than a week to create an HR chatbot that responds to typical employee questions. Employees write messages to our chatbot in slack, triggering a UiPath robot to find the answer. Within seconds our colleagues can find out how many days of paid leave they still have. When an employee wants to request a day off, they write to our Druid Chatbot. The employee message activates the UiPath robot, which sends an approval request to the employee's supervisor and creates all the necessary documentation for the time off, even blocking those days in the calendar.
An organization can set up chatbots to help answer questions during Recruitment, Onboarding, Offboarding, and many other HR administrative processes.
Chatbots are available 24 hours a day, and employees can access them by using their laptop or other mobile device. They interact with employees to understand their request and deliver answers quickly without distracting your HR professionals. With zero errors. That's Smooth Integration!