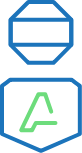 Alex: Operating bank statements in accounting

40 hours monthly

2 employees with more time

Alex is a software robot developed on the UiPath platform for SAFECO, an accounting company. In this demo you will see Alex performing the following tasks:
– read the bank statement
– isolate specific transactions
– recreate the statement keeping only the data needed
– input this data into the accounting software
Alex gets the tasks via email and responds to them when he's done. For every task Alex is operating around 10,000 statement lines with zero errors. By doing this he is saving one week per month for 2 Full Time Employees in SAFECO.