15-16 SEPTEMBER 2022, LONDON
Gartner Reimagine
HR Conference
Visit us at Booth 403


ROBOTIC PROCESS AUTOMATION
Aggranda creates
software robots that
automate HR tasks.
Today most companies have come to understand that human capital is one of their greatest assets.
But processes have lagged behind and HR departments all over the world are struggling with manual processes and messy spreadsheets.
Aggranda is here to fix that.
Visit us at booth 403
Let's discuss how we can help free up your time from manual, repetitive tasks using RPA (Robotic Process Automation).
Check out these videos that show automation in action.
See hyper automation in action:
Provident has successfully integrated multiple UiPath robots across its workforce, and the company is now saving over 10,000 hours of work every year.
Software Robot Example in HR department for First Bank:
This software robot is built by Aggranda using the UiPath platform. The RPA software robot helps the HR department with the onboarding process in the First Bank team.
Automation of Onboarding and Offboarding in HR
Arya is a software robot that helps the HR team from Provident with the on-boarding and ex-boarding process.
Introducing
Link
by Aggranda
We're extremely excited to unveil at the Gartner conference our brand new product: Link by Aggranda.
We created Link for teams that are swamped by an increasing number of various applications – dozens of ticketing systems, live chat tools, CRMs, Excel spreadsheets, legacy tools, offline procedures and a lot of hard copy paperwork.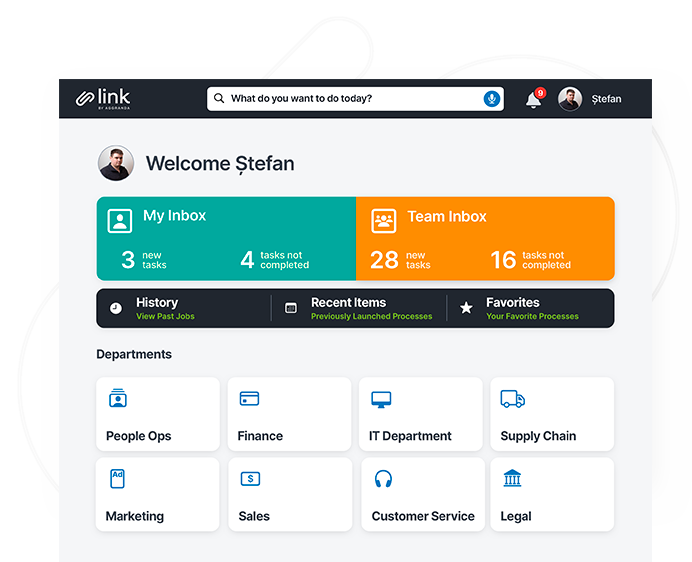 Who we are
Aggranda specializes in full automation lifecycle services for organizations looking to digitally transform their business processes. We create time in companies and in people's lives by training software robots using Intelligent Automation, RPA, AI, and Machine Learning. We've built robust automation programs for industry leaders worldwide in finance and accounting, HR, logistics, insurance, telecom.
Our software robots are saving over 36,000 hours/yr in companies based in the USA, France, Portugal, Austria, Germany, UK and Singapore.
Request a

callback


from our sales team